The Ride
After the 55 mile west bound trek on Day 1, I planned for a shorter recovery ride on Day 2 before hitting the Hiawatha Trail on Day 3.  Day 2 would pick up the Northern Idaho Centennial trail at the trail head where I exited the previous day, and head east until the trail ended.  This leg of the trail is a mix of Class 1 trail, Class 2 (bike lane) trail, and a "mixed trail" involving sidewalks.
The trail picked up at River Run Park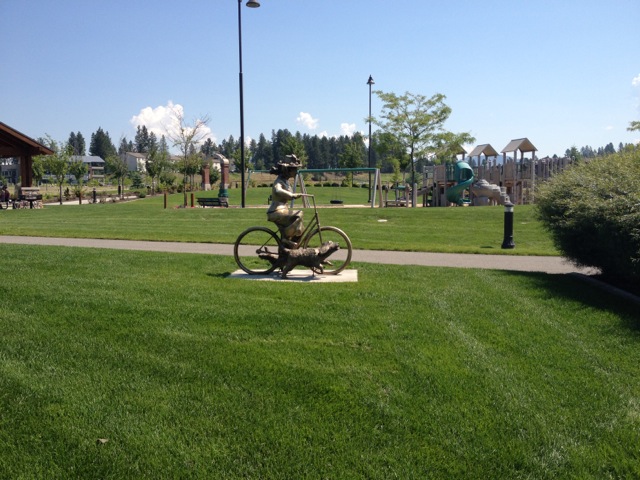 From the park, the trail follows the Spokane River east to the Coeur d'Alene Lake in the heart of the city.  Once into the city center, the trail presents an option to follow the path along the lake, or divert around the park for more distance.  I chose to take the more direct path along the lake, which at 8:30AM was lightly populated.
Following the path/sidewalk, eventually it picks up again as a class 1 path and continues along the lake.  The scenery on this ride is great, with the lake on the right, and mountains in the distance.  The path is well maintained and populated with other cyclists and hikers.  There is a climb 9 miles into the ride, but easily managed and over with in less than a mile.  The trail winds around the lake and eventually terminates at Higgen's Point where a there is a small park.
The trail along the lake presents many opportunities beyond cycling.  There are many locations to descend to the lake itself for fishing, and during one stretch of the trail there are fitness stations provided creating an exercise course.
http://parksandrecreation.idaho.gov/parks/coeurdaleneparkway.aspx
The return trip was pleasant and uneventful, and on the whole the day was a great recovery ride following the Day 1 exertion.
After returning to the hotel and hitting the gym, I showered and went to Row Adventure Center (http://www.rowadventurecenter.com/) to finalize my bike rental for Day 3.
I topped off the day with a trip to Capone's for dinner.  Featured in the show "Diners, Drive-ins and Dives", I found this place using yelp and satisfied my hunger with a Widmer Hefeweizen, their "Ultimate Cheeseburger" and garlic fries.  The beer and food were awesome and the day well spent.
Tomorrow I will tackle the famous Hiawatha Trail, where I get to ride through a 1.5 mile tunnel.
Cheers.